This beautiful table mat is made of Honiton lace, one of the most famous varieties of English lace.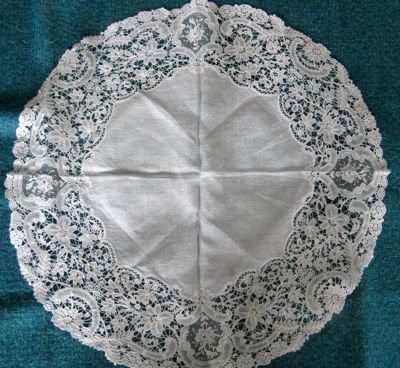 Honiton lace is a bobbin lace, usually characterised by floral and natural motifs held together by net and a fine network of thread. Honiton lace is one of the finest and most delicate of laces, making it particularly fragile, but also particularly beautiful and suitable for wedding veils and delicate tea dresses.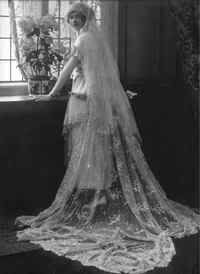 A 1920s bride in a stunning Honiton lace veil
Lace making may have been introduced into the Honiton region by Flemish immigrants to England during the Elizabethan era. Like many Elizabethan immigrants to England, they came seeking religious freedom, and were welcomed for their skills. England's technology and arts, particularly in textile design and manufacture, benefited greatly from the country's willingness to accept religious refugees in the 16th century.
Whether Flemish lacemakers settled in Elizabethan Honiton, or whether a resident of Honiton brought the new skill back from other parts of England, by the beginning of the 17th century most houses in the Honiton region had at least one member who made lace, and in 1696 is was estimated that at least half of the residents of Honiton made their living as lacemakers. Lace making, in Honiton as well as in other regions around England and the rest of Europe, has traditionally been a craft that women and older members of a household could do around their other chores as a means of supplementing the household's income.
Honiton lace was one of the most desired and valuable laces throughout the 17th, and early 18th century, particularly in France, but the late 18th century saw the introduction of machine-made Honiton lace substitutes, and the industry went into a massive decline. Queen Victoria attempted to revive the lace industry by commissioning an enormous piece of Honiton lace for her wedding dress.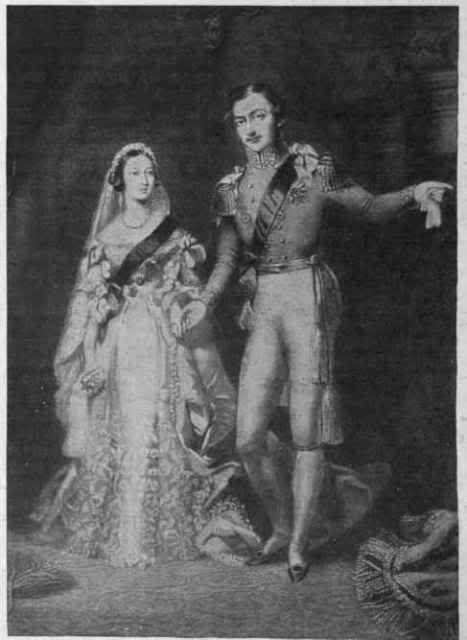 Queen Victoria in Honiton lace
As a result of the young and popular Queen's choice, Honiton became the most desired and sought after lace of the 19th century. Every bride hoped to have at least one set of handkerchiefs or a table mat such as this of fine linen trimmed with handmade Honiton lace in her hope chest.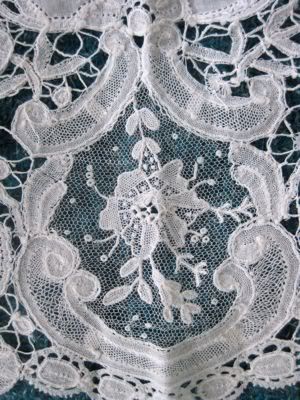 Today table mats are rather unfashionable and superfluous, but in the 18th, 19th and early 20th century they were an elegant, decorative, and practical means of protecting a valuable table from water stains or scratches from ornaments, vases, candlesticks, tablewear and epegernes that might damage the delicate varnish of the table.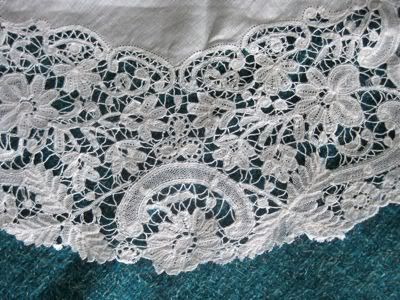 My table mat is probably late 19th or early 20th century Honiton lace. It appears to be entirely handmade.