The
wedding dress exhibition at Expressions
featured a simple depression-era dress in a fabric that the bride called 'hailstone muslin.'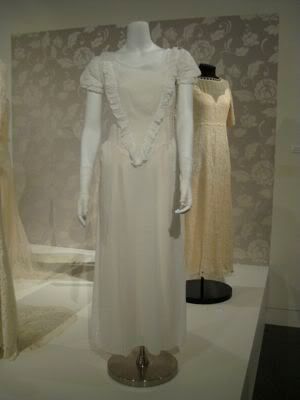 A close-up of the bride's mitts and the dress fabric
I've never heard of hailstone muslin, and was quite intrigued.
My first impression was to call the fabric dotted swiss, but I did notice that the dots seemed to be constructed differently than I would expect for a true dotted swiss
In the fabric of the hailstone muslin dress, the dots were woven into the fabric, and then the extra threads cut away on the back of the fabric.
The true dotted swisses that I am familiar with have the threads for the dots wrapped from front to back, as occurs with the needle and bobbin threads of a sewing machine, or in hand embroidery.
The modern usage of 'dotted swiss' covers any light, crisp fabric with raised dots. The dots may be applied in any fashion. Does this mean that hailstone muslin is just another name for a slight variant on dotted swiss? I decided to research.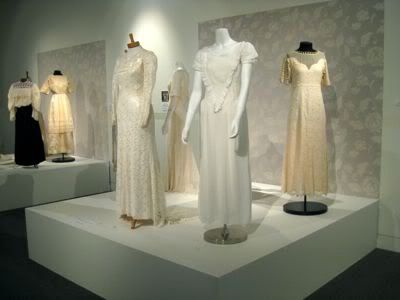 The 1930s wedding dress display at Expressions
The only references to hailstone muslin that I can find online or in reference books are from Australian and New Zealand sources.
The Brisbane Courier notes that on Thursday 4 Feb 1892 "
Miss L Blakeney [wore] white hailstone muslin with pale blue and pink sprigs, black turned up sailor hat and pink sprigs
" to a reception at Government House.
The fabric is mentioned in the same paper again on
16 Sep 1895
when "
Mrs. L. Miller wore a dainty white frock of hailstone muslin, and a large Tuscan hat with upstanding bows and rosettes of white silk
" to a race meeting.
On
Feb 24 1899
the society pages of The Perth Courier mentions a wedding in which "[
The bride's] little niece Alta Genevieve Hughes acted as maid of honor and carried on a pretty little tray the wedding ring. She was dressed in white hailstone mull trimmed with lace and wore a heavy silk sash caught up with a dainty buckle.
"
Is hailstone mull the same as hailstone muslin? This is the only mention of hailstone mull that I can find at all.
The Sydney Mail, on
Jan 7 1909
features an illustration of a charming house gown in hailstone muslin
Volume 8, Issue 7 (November 1, 1933)
gushes
"The sight of dainty frocks in flowery prints, linens, hailstone muslins and zephers, with sunbonnets to match, makes one long for a little girl to dress."
Volume 10, Issue 8 (November 1, 1935)
suggests in its 'Timely Notes and Useful Hints from Helen'
"For a frilly summer dance frock what could be more charming than hailstone muslin with contrasting ribbons."
More mentions are made in
Robin Hyde's
semi-autobiographical account of being raised middle class in working class turn-of-the-century New Zealand,
The Godwits Fly
.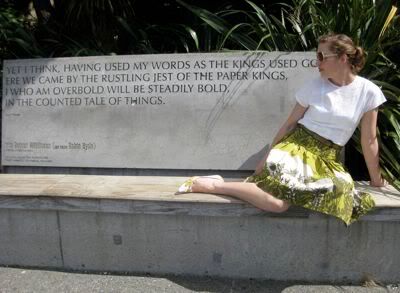 The book
mentions her mother
"
… peeling potatoes, or making the old hand-machine whirr as she ran up hailstone muslin for Sandra's new best dress…
". Later, Robin's own character, Eliza, now grown up, pregnant, and unmarried,
decides
, "
...to go out shopping and buy things for her baby—lovely things, lace and hailstone muslin and little absurd caps
".
Based on all of this information, I believe that hailstone muslin (or hail-stone muslin) is an Australian and New Zealand term for a fabric which is identical to, or at least very similar to, dotted swiss. It appears to have been used mainly for children's attire, and for summer frocks for young ladies, and was popular from at least the 1880s through the 1950s.

Any more information on hailstone muslin would be much appreciated!